AES Lights Up Big Four Bridge Over Ohio River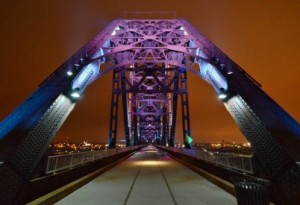 One of the bridges connecting Louisville, Kentucky with Southern Indiana has a bright new look. And the residents of the area can partly thank a National Electrical Contractors Association (NECA) member-contractor for that.
Louisville-based Advanced Electrical Systems (AES) recently finished the installation of approximately 1,500 LED lights on the Big Four Bridge, which is used for walkers and bikers.
The scope of the project, which lasted about six months with an average crew of 12, consisted of mounting the lights, running fiber glass conduits the full length of the bridge and installing fiber cabling from the Kentucky base of the bridge to the Indiana side.
James Strange, AES's vice president, said his company, founded in 1993 and certified as a Women's Business Enterprise, was proud to take on a project of such civic importance.
"This is a landmark," Strange said. "To know we helped change the skyline of the city for the better was an honor."
Pedestrians could continue to use the bridge for the duration of the project, so a communication plan and the use of a proper layout were vital. The bridge stands 200 feet above the Ohio River and is an additional 100 feet tall. Strange said there were no injuries or incidents.
"I think it looks amazing," Strange said. "It's been great. It brought a lot of attention and revitalization to downtown."
Now, the bridge is decked out in special computerized lighting capable of illuminating the span in patterns of dancing, colorful lighting that will be visible for miles up and down the river every night. Each light should last at least 10 years and require almost no maintenance, Strange said.
The system will include intense spotlights and wide-beam floodlights attached to the steel structure — spaced atop and under the arches and along the deck — as well as flat LEDs placed inside many hollow beams.
Big Four Station Lighting Aerial Fly Over – Jeffersonville, IN from Harvey Photography on Vimeo.
The lights can be programmed to be varied for different occasions, such as green for Saint Patrick's Day, Strange said. They also could have a pattern of red and blue to promote University of Kentucky and University of Louisville sporting events or pink for breast-cancer awareness.
The changing light patterns "will be the crown jewel of the whole Big Four project," said David Karem, executive director of the Waterfront Development Corp., which oversees the park and the Big Four for the city, according to the Courier-Journal in Louisville. "The lighting should make the Big Four, which is already perhaps the most popular attraction in the city, even more popular."
For more information on Advanced Electrical Systems, visit www.aeslou.com.
---
---